About 404 on Trafalgar
404 on Trafalgar was designed in 1935 by Architect William Houlker, one of the City's prominent businessmen; he built himself a lovely residence close by to 404.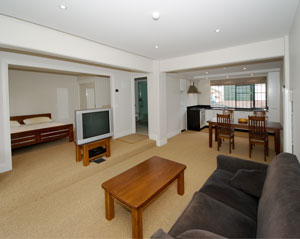 He was responsible for many notable structures around Nelson and environs, including Bishopsdale House for the Nelson Cathedral incumbent, the Masonic Lodge on Collingswood Street, the classical stonework gates for the Nelson College for Girls just fifty metres north on Trafalgar Street, and the rather nice Crematorium out at Wakapuaka Cemetery overlooking Nelson Haven. Surprisingly, this last location is a lovely spot to picnic, overlooking the Haven and the Boulder Bank, and enjoy the peace of the ancient stones marking all the founding families' names.

Originally commissioned as a block of five apartments, 404 was a radical departure for Nelson from the typical wooden workers cottages which can still be found in many of the streets. Apartment living was a big city concept at the time, so Houlker was once again at the front of the town's built environment.

The severe simplicity, almost Art Deco in function, of 404's design marked several innovations in engineering and style for Nelson architecture, and this design has been carefully respected while restoration was undertaken; all original features were retained and, where possible, refurbished.
---
© 404 Ltd | Tel: +64 3 539 4046 | enquiries@404.co.nz | SEO by 5 Star-SEO